SEE Digi.TV

Link to the official site of the project "South-East European Digital Television– SEE Digi.TV"
http://www.see-digi.tv/
Panel 1: Possibilities of use of digital dividend in the Republic of Croatia (HAKOM, AEM and FER)
Moderator:
Danijel Vidaković (HAKOM)

Participants:
Sonja Grgić (FER) (Grgic-SEEDigiTV_Digitalna dividenda.pdf)
Ivančica Sakal (HAKOM) (Sakal-DD-SEE_Digi_TV-20121204.pdf)
Panel 2: Platforms for distribution of TV channels and the future of pay TV in Croatia
Moderator:
Robert Šveb (MediaHUB)

Participants:
Miran Gosta (HAKOM) (Gosta -Medijska usluga televizije u Republici Hrvatskoj-20121129.pdf)
Tigran Vržina (OIV), Domagoj Frank (HP Produkcija) (Frank Vrzina - SEE Digi TV-Zagreb 2012 DF i TV v3.pdf )
Robert Despot (HT) (Despot - HT- MAXtv_Future of TV in Croatia.pdf)
Panel 3: Regulation of television through the system of concessions and technological neutrality – how to achieve a balanced approach in regulation with regard to the TV broadcasting technology?

Moderator:
Ernest Strika (AEM)

Participants:
Milan Živković (Ministry of Culture)
Tomislav Lukičić (HRT)
Denis Mikolić (NUT)
Petar Čavlović (Koordinacija MUX D)
Danijel Vidaković (HAKOM)
Tanja Kerševan Smokvina (APEK, Slovenia)
Workshop participants included the representatives of broadcasters, different ministries and the university.

Zagreb, 1 October 2012 –
Latest Project Results
The SEE Digi.TV project is implemented through activities divided in work packages through which project partners share their knowledge and experiences to make the process of the analogue to digital television broadcasting switch-over in the South East European region simpler and more efficient and to assess the possibility of a cost-effective use of the digital dividend and to minimise digital divide.
SEE Digi.TV International Project Holds Meetings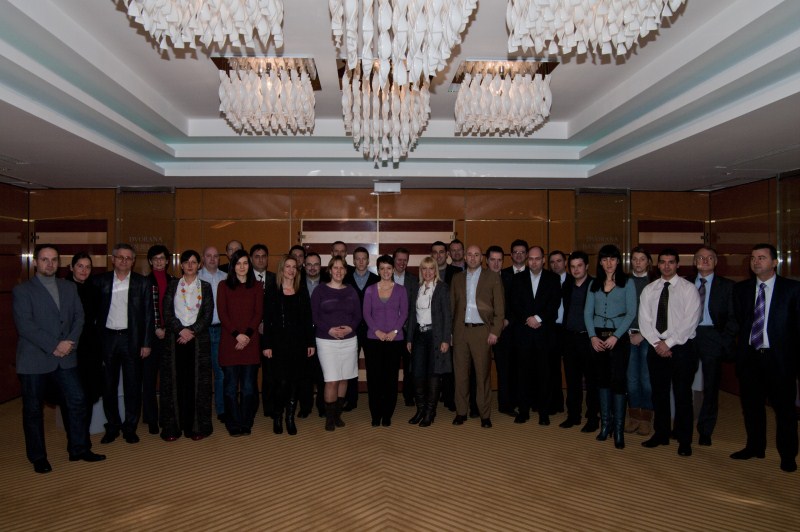 Zagreb, 28 December 2011
HAKOM signs Grant Contract for South-East European digital Television – SEE Digi.TV Project
The Croatian Post and Electronic Communications Agency (HAKOM) signed on 28 December 2011 a grant contract awarded by the Agency for Regional Development of the Republic of Croatia for the implementation of the project entitled: "South-East European Digital Television – SEE Digi.TV". The total value of the project is EUR 1,987,230.50, of which EUR 140,959.97 is allocated to HAKOM and the Electronic Media Agency (AEM) for their joint implementation of the project in Croatia. EU contribution of 85 percent is financed from the Instrument for pre-accession assistance fund (IPA) and national co-financing from HAKOM and AEM is 15 percent. The project's duration is 16 months. (
VL-ZP-PO-INTS-SEE_Digi.TV_potpisivanje_en-v.2.0
)