Switching off DVB-T Signals as of next Tuesday, only DVB-T2 remains in operation
PRESS RELEASE
The full transition to DVB-T2/h.256 HEVC television system starts on Tuesday 27 October in Osijek-Baranja, Vukovar-Srijem and parts of Karlovac and Lika-Senj County and ends on 12 November in Split-Dalmatia and western parts of Dubrovnik-Neretva County. After the end of the transition, the viewers watching the television programs through terrestrial transmitters will need to have televisions or independent receivers supporting the new system.
Zagreb, 23.10.20. –
Transition to the new DVB-T2/h.265 HEVC system is almost completed, and DVB-T transmitters will be switched off in nine digital regions from 27 October to 12 November.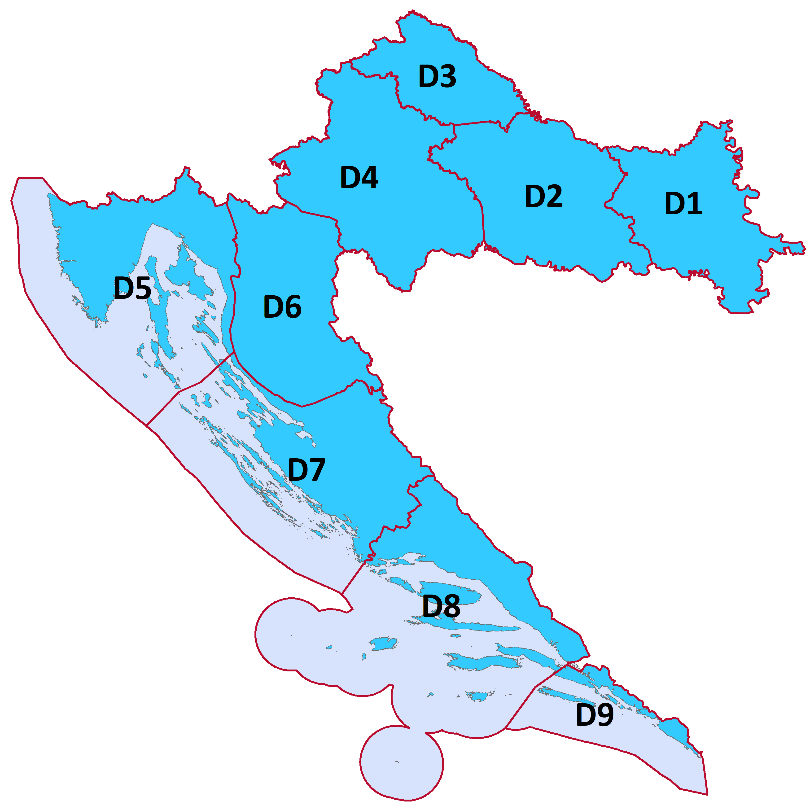 | | | |
| --- | --- | --- |
| Digital Region | County | Switchover |
| D1 | Osijek-Baranja, Vukovar-Srijem, part of Brod-Posavina | 27.10.20. at 0:00 |
| D2 | Part of Bjelovar-Bilogora, Virovitica-Podravina, Požega-Slavonia, part of Brod-Posavina | 29.10.20. at 0:00 |
| D3 | International, Varaždin, Koprivnica-Križevci, part of Bjelovar-Bilogora | 3.11.20. at 0:00 |
| D4 | City of Zagreb, Zagreb, Sisak-Moslavina, part of Krapina-Zagorje, part of Karlovac | 3.11.20. at 0:00 |
| D5 | Primorje-Gorski Kotar, Istria, part of Lika-Senj | 10.11.20. at 0:00 |
| D6 | Part of Karlovac, part of Lika-Senj | 27.10.20. at 0:00 |
| D7 | Zadar, Šibenik-Knin, part of Lika-Senj | 5.11.20. at 0:00 |
| D8 | Split-Dalmatia, part of Dubrovnik-Neretva | 12.11.20. at 0:00 |
| D9 | Part of Dubrovnik-Neretva | 10.11.20. at 0:00 |
By switching off individual DVB-T transmitters at midnight, only new DVB-T2 transmitters for which the users must have appropriate receiver equipment will remain in operation in digital regions. The equipment refers only to a television or an independent receiver (so-called Set Top Box) which should support DVB-T2/h.265 HEVC system. The antennas used so far to receive signals from transmitters, whether roof antenna or indoor antenna, need not be changed.

It should be quoted that after switching off the DVB-T transmitter, it will be necessary to search television programs on the receiver again so that they can be viewed in the DVB-T2/h.265 HEVC system. This will also have to be done if we are already watching HD programs in the new system because the current television channels (frequencies) for transmission will be replaced by the final one after the simultaneous operation of DVB-T and DVB-T2 systems on a particular transmitter is completed.

This transition applies only to those citizens who watch digital terrestrial television. All those watching the television through other platforms (IPTV, cable television, satellite television) will not have to change their reception equipment, nor will the transition in any way affect them.

All those who have televisions more than 3years or TV aimed to watch terrestrial TV, use standalone receivers purchased to watch terrestrial television, will certainly need to have new receiver equipment. If users are not sure if their equipment supports the new DVB-T2 system, or if this is not clearly indicated on the devices, it is proposed to search the channels again and verify that the detected channels of Croatian national television have the "HD" sign in the corner. The label indicates that the image is in high resolution and that they receive a new DVB-T2 signal, not the old DVB-T. The price of cheaper individual receivers today ranges between 150 and 200 HRK but if users have old TV that can display the image only in a standard resolution (quality), instead of acquiring an independent receiver, they can also consider of buying a new television capable of showing the image installed on their old television, otherwise the image will still be shown in its previous quality despite the new independent receiver.
For more information please contact the following
link
# # #
For additional information please contact:
Croatian Regulatory Authority for Network Industries (HAKOM)
Roberta Frangeša Mihanovića 9
10110 Zagreb, Croatia
Tel. + 385 (0) 1 700 70 07
Fax + 385 (0)1 700 70 70
Media inquiries can be submitted online using HAKOM's official website: https://www.hakom.hr/
Registration required.
ABOUT HAKOM: HAKOM (www.hakom.hr) - Croatian Regulatory Authority for Network Industries – ensures preconditions for a fair market competition, stable growth and environment for innovations in the electronic communications and postal services market. HAKOM protects users' interests and the possibility of choice among various communications and postal services at affordable prices, defines sustainable competitive conditions for operators and service providers under fair conditions for return on investment, and provides support to economic growth, public services and the quality of life in the Republic of Croatia by using modern technologies. HAKOM' strategic goals are: to promote regulation of the electronic communications and postal services market, to support growth of investments and innovations in the electronic communications and postal services market, to provide efficient use of limited resources, to accelerate the growth of broadband products and services, to provide affordable offers of communications and postal services, to provide protection and informing of users, to build an efficient and comprehensive information system, to define and implement efficient processes, and to acquire multi-disciplinary.